Being fit and exercise is not foreign to our family. I played soccer most of my life, Daddy D actually played professional basketball (over seas) for nearly a decade, and we've spent plenty of time in gyms. But something happened after I had a kid and started breastfeeding. More accurately, something did not happen – SLEEP! And with sleep, also went my desire or concern with the shape and tone of my body. I maintain a healthy diet for our family, but in terms of fitness, we were all seriously lacking. But not anymore! I am so happy, and slightly (utterly?) terrified to announce that I am the newest Fitfluential Ambassador!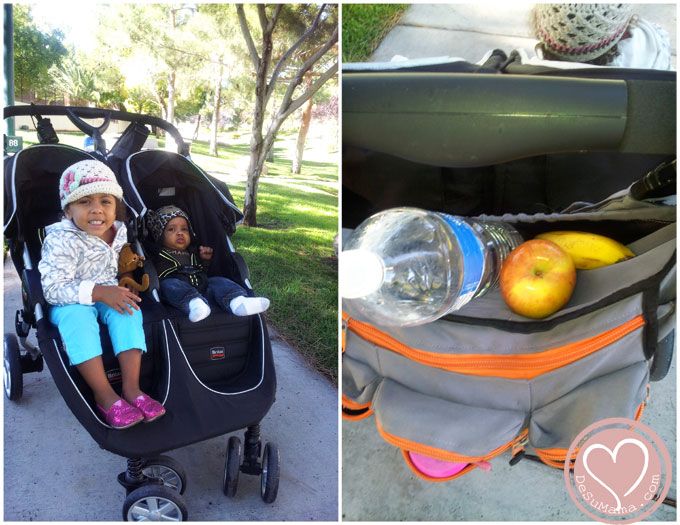 Becoming a Fitfluential Ambassador means, apart from the whole blog network thing, that I now am part of a family of fitness enthusiasts of varying degrees. Some are hard core fitness gurus, others like me, are just getting back into the saddle. Either way, I have already felt the love and support from this amazing community as I embark on our health and fitness goals. The above picture was taken right before I set out on my first run in a lonnng time. The kids were snuggled up, snacks and water was packed, and I had promised Alina a park destination if she sat still for the length of the run.
During the first 15 minutes of my run (walk?), I was brainstorming a million different fitness topics/questions to discuss on DSM: why do moms not pay more attention to our health needs? Do Latina and African American moms spend even less time concerned with our health than White moms? What benefits do children of fit moms experience in the short and long term? And right when I started to wonder what challenges I would encounter in becoming a fit mom, Sebastian starts crying and doesn't stop….
If my face looks irritated, its because I was. I finally got the toddler's compliance, but had to stop my run (um, walk?) and carry my 20+lb baby. Ultimately, I resigned to walking as briskly as I could carrying him and pushing the double stroller, but it wasn't the "free your mind" running experience I was hoping for. Alas, I foresee MANY challenges of becoming a fit mom with kids in tow. But I won't give up!
Fitness Goals
I just want to feel healthy, and strong, again. Specifically, I want the strength in my legs back (as I never had fabulous upper body strength). I want to have better endurance and not get as tired as quickly. And I want a smaller mid-section (again, it was never tiny to begin with) because that localized weight in the most unhealthy. If you want me to put a number on it, I'd say I want to lose 25-30 pounds. But again, my focus is on health and fitness. Now that it's out there, I have no excuses… I know you guys will hold me accountable!
Cooking healthy and with lots of cultural flavor has always been important to me at De Su Mama. You can find so many food stories in the Food Culture tab above. But, as I continue to build our legacy, I want my kids to know the importance of maintaining a strong body through fitness. I will never be a fanatical fitness nut, like Alina's Tio has turned into, but you will now be able to find the balance of fitness and family life in the DSM Lifestyle section.
Becoming the newest Fitfluential Ambassador has meant that I now have a team. A group of people who are, not only expecting me to blog about my unquie view on fitness, but to live the ideal too. And teamwork is what I thrive on, so don't bet against me on this one!
Welcome to all my new FFA friends. I appreciate your support and am looking forward to the ride!