Testing Out the New belVita Breakfast Biscuits
Since having Sebastian, making sure I am nourished with a balanced breakfast has been challenging. I talk about it all the time on the blog, and it goes a little something like this: Alina gets fed an insanely nutritional oatmeal filled with pureed greens, raisins, apple sauce, etc. Sebastian gets the baby version of that same recipe, with added Brewers Yeast and fish oil. And Mama, well, I get coffee; cafe con leche, to be exact. So when my friends at Fitfluential asked me to test out the new belVita breakfast biscuits, I was hopeful to find something that will get me through my mornings in a healthier fashion.
I know from comments and emails that many of you also struggle with finding the perfect breakfast that tastes great, can be consumed on-the-go (or at least quickly) and is nourishing for your body. Whereas before we could sit down to eat breakfast, just finding the time to EAT has become a chore.
As we move into 2013, I'm obsessed with finding the perfect breakfast for me (yes, ME!). One that is balanced and fills me up, but that is also realistic to my constraints as a mom of two small babies.
In that regard, belVita delivers; it doesn't get much easier than opening a package. And because belVita breakfast biscuits come in five flavors to satisfy any palate (blueberry, golden oat, cinnamon brown sugar, chocolate and apple cinnamon), I was never bored. Beware – chocolate was especially yummy (almost like a dessert)!
Each individual package of 4 crunchy biscuits is portioned for breakfast and provides 18-20 grams of whole gains, 3 grams of fiber and 4 grams of protein. In my research, I learned that they're also 6 points for the Weight Watchers crowd, which apparently is a lot. I will say, though, that eaten with some non-fat Greek yogurt, fruit and my cafe con leche, 4 of these biscuits really filled me up. I wasn't picking or snacking throughout the morning, and could even share with the kids. Also, the breakfast biscuits are specifically baked to give you sustained energy all morning.
I would and will buy these breakfast biscuits again. Actually, I already did. Between Alina "sharing" everything I eat and them doubling as teething biscuits for Sebas, my belVita samples were gone before I had a chance to take pictures! If your alternative is no breakfast at all, or you're considering a less than stellar nutritional option, you should give belVita breakfast biscuits a try.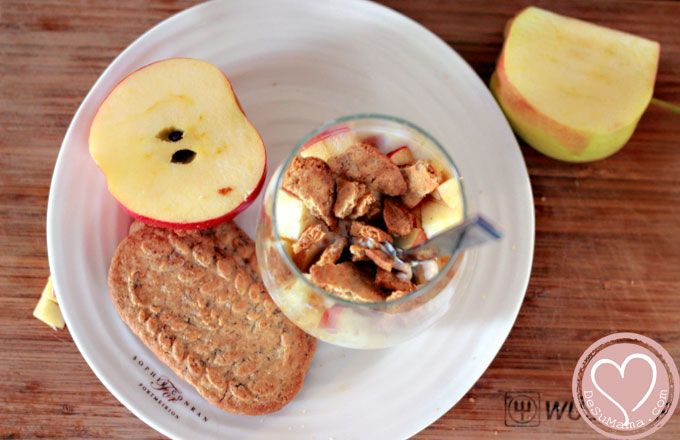 Visit the belVita Breakfast Biscuits website for more information or to take their All Morning Challenge, which has 101 winners every day.
*Disclosure: FitFluential LLC compensated me for this Campaign. All opinions are my own.