In having our second child, I was concerned with how Alina would adjust to the new family dynamic. She was two years and three months old at the time Sebastian was born, which is an age of incredible growth and development on its own. How would adding a sibling to her life affect her? Would she be jealous? Angry? Would she lash out in sibling rivalry?
I've said this from the beginning, and it continues to be true – Alina has proven to be a magical big sister. She is kind and gentle, never mean spirited. There are instances where we doesn't want to share or is quick to snatch objects out of her brother's hands, but she would do that with everyone. Those are skills we work on constantly, and not in relation to her role as a big sister. In contrast, Alina is patient when I am feeding Sebastian, alerts me to his needs and helps me in "taking care" of the baby while I tend to dinner or laundry (or a post).
But it seems my concerns were aimed towards the wrong kiddo, because all of a sudden, at 6 months of age, Sebastian has been the one to exhibit signs of sibling rivalry. Sometimes he just cannot stand his big sister!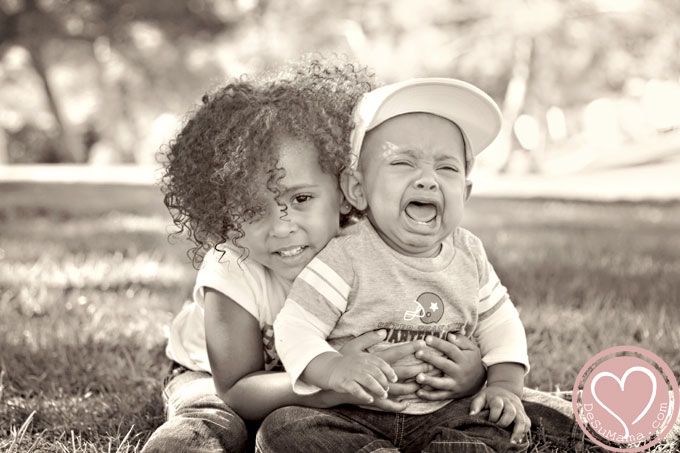 Thankfully, this isn't my first go-around with a sensitive baby, so I know this phase will pass. Sebastian is entering the developmental stage of stranger anxiety and has a fierce attachment to his Momma. I am with him all day, everyday. I am his source of nutrition (oh! Remember when I lost my breast milk? Well, its back. Told ya'll I was stubborn!) and comfort. Perhaps because he is a boy, we all thought his temperament would dictate more independence than his older sister had at this age. Alas, that is incorrect. He loves his Momma and simply does not want to share. And especially not with his big sister. Sibling rivalry? Seems like the younger the better in my family!
This is a fairly new observation, but it does seem to be getting more obvious. Thankfully it has more to do with my attention and not a behavior that occurs all the time. Truth remains: Sebastian is not crazy about Alina when he's either hungry or tired or needing extra love. He grabs her hair, screams hysterically and often times all I can do is laugh. I don't want Alina to think she is to blame, or that her brother doesn't like her. After all, at least at this very moment, sibling rivalry is just a phase that can change with the wind.
For as upset as my little man gets with his sister around, she is truly his favorite person (maybe other than me). Alina can make Sebastian laugh like no one else can. He already copies her, and they exchange loud screams in similar tempos and patterns. It's so funny.
I pray that these two love each other forever; that they lean on each other and continue to build our legacy after Daddy D and I are gone. I hope they fight and forgive and that true rivalries exist for very short times, if ever at all. I believe honest, unconditional love can be learned through a relationship with a sibling. I love my siblings, and wouldn't be who I am without them. Daddy D is very close with his siblings too. We are raising our kids purposed for of a strong sibling relationship. Especially since we are sure this is it, these two better get used to each other. Sibling rivalry might make some for a few funny pictures, but its not something we're allowing to fester in this family.
How about your kids? How young did you see sibling rivalry exist in your family? As a parent, did you feel it was important to foster strong sibling relationships?