Family Vegas Blog
More than any other year before, I am SO excited for the holidays! Alina is aware of the world around her, and like the sponge that she is, becomes fully engrossed in whatever we do. And that makes the holiday season so much fun! The night of Thanksgiving, we began putting up our Christmas tree up. Alina asked a zillion questions about everything as she delicately placed ornaments on the tree. Through conversation and a few old school movies, I've introduced the old bearded Santa figure to her as well. She chuckles when I tell her how he is going to come down our chimney to leave her Christmas presents, eating cookies and milk on his way out.
It's my goal to do something fun to celebrate the holidays every weekend during the month of December. Vegas truly offers so much family fun. After some research we decided to take the kids to meet Santa at Tivoli, a beautiful outdoor shopping/dining establishment designed to resemble all things European and exquisite. Check out my Vegas blog post about our first time at Tivoli – Alina was itty bitty.
At Tivoli, you can take your own photos with Santa for only $5. This was perfect for us, as I was able to shoot as many pictures as needed for not a ton of money. They had other packages too, not to worry. Also, since we visited him early in the season, Santa wasn't stressed out and was able to spend quite a bit of time with my unsure toddler. All in all, Alina loved the experience and told Santa, "I went to Jolly Ranch and rode a horse. So for Christmas, I want a pink toy pony." (Mama: "what do you say?") "Please".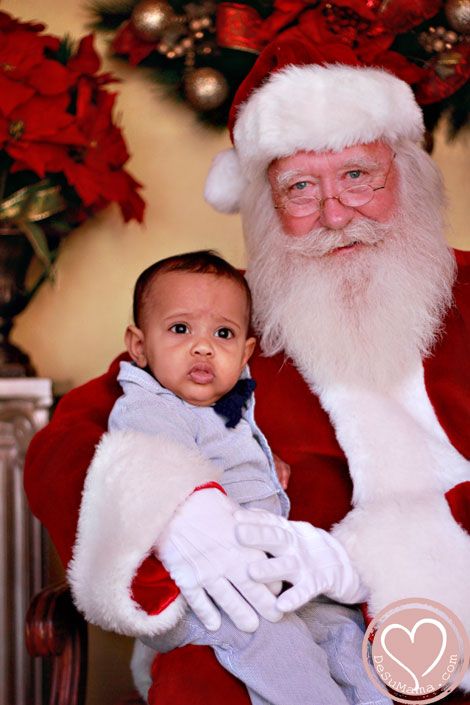 In addition to a blossoming toddler, I have my sweet, gorgeous little man to share this holiday season with. It feels so amazing to have our family complete this year! Sebastian is growing into quite the chilled out dude, and although I don't think Santa was his biggest fan, Sebas didn't mind him too much either. He just sat on his lap; kind of like, whatever. Such an easy baby! I am so blessed by him!
Mostly, however, I wanted to be sure to get a photo with him and Santa on his first Christmas in order to continue the holiday photo memories tradition that I started with Alina last year. That way, I won't have to rush to get Santa pictures again. More on that very soon!
After visiting the old man, the kids had a great time playing in Tivoli's playground. It was a beautiful Vegas day, and lots of kids were enjoying the afternoon with their families. We missed the farmer's market by a few hours, so instead walked through Tivoli's Market LV. I love The Market!! The entire establishment is comprised of small businesses, and housed everything from fresh flowers, kids' boutiques and interior design services. They even had a fashion school with camps for little ones (starting at age 7)! I found the most adorable aprons at the cupcake shop, and plan to head back soon to pick one up for Alina's big Christmas gift this year. Maybe I'll get myself a matching one, too!
In the end, Santa was fun to meet, but wasn't the focus of our day. I celebrated Noche Buena as a small child, and that meant opening gifts at midnight (thus, no Santa). I do remember vaguely believing in him before my parents divorced, but the tradition wasn't a huge deal. However, Santa is an American icon; getting through the holidays without him would be near impossible for us. And I don't mind him being apart of our family holiday traditions because I know we will depositing our babies so many other values during the holiday season.
The holidays are a source of tradition and family heritage – a few months out of the year where we gather with those that we love, spending time together as a family enjoying our local wonders, eating great food, being generous and showing gratitude because that's what virtuous people do – not because Santa tells us we should. I want the holidays to bring warmth to their hearts when the cool wind begins to blow. And, as the year comes to a close and the dreams of the new year fill their hearts, I want my kids to start anew with the memories of a holiday season filled with a strong family heritage; a legacy that Daddy D and I have built on purpose and with purpose, to raise the most amazing people we can.
How about you – will you be visiting Santa? If you have older kids, how important is his symbolism to the excitement of your holiday season traditions and family heritage?