I didn't grow up on them. I don't even think they exist in Cuban food culture. But ever since I figured out how to prepare brussel sprouts with flavors I enjoy, I can't get enough. I cook a batch, leave them in the fridge, and pop them like candy. Yum! My kids love them too, making the mini cabbage a family food tradition in our home.
Even still, cooking brussel sprouts the same ol' way can get boring. So I decided to trade in the vinegar and kikk up the flavor with Kikkoman soy sauce and a few other new ingredients.
Here's a little ayudita (tip) -  I researched how to prepare brussel sprouts years ago, and the one tip I took away was the importance of blanching prior to roasting or pan frying. Doing so retains their bright green color and allows you to shorten the cooking time. Cooking brussel sprouts too long is the difference between candy like goodness and bitter badness. Don't over cook your "baby doll's salad" (as Alina calls them)!
Boil the brussel sprouts whole for 3-5 minutes, or until tender. Immediately "shock" them by placing in a bowl of cold, ice water. Remove the stem and outer leaves. For this recipe, I halved each sprout in order to have the most surface area to adsorb the yummy marinade.
 Soy Brussels Sprouts Ingredients
- 4 cups halved Brussels Sprouts
- 2 cups Shiitake Mushrooms
- 2 teaspoons Kikkoman Soy Sauce
* Since soy sauce is traditionally used as a salt replacement, I use the regular variety versus low sodium. No other salt is added to this recipe.
- 2 teaspoons Chili Garlic Paste
- 4 teaspoons Olive Oil
- Handful of Toasted Almonds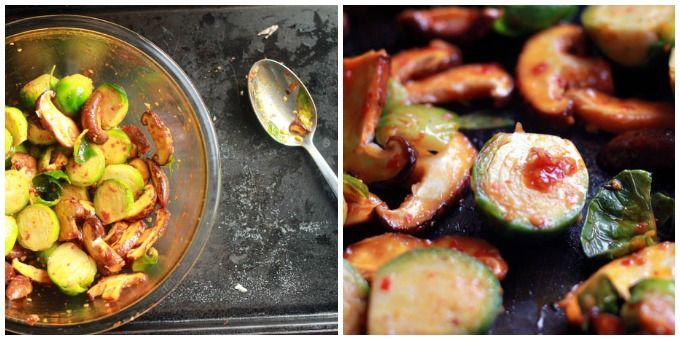 Directions
Preheat oven to 400 degrees.
For the marinade, whisk together the Kikkoman soy sauce, chili garlic paste and olive oil in a bowl. Completely cover the brussel sprouts and Shiitake mushrooms.
Arrange the vegetables in a single layer on a baking sheet, making sure not to crowd the pan. Doing so will ensure your veggies roast, as opposed to steam, and give you that beautiful caramelized color.
Cook for approximately 25-30 minutes, checking every 10 minutes. Flip the sprouts to ensure both sides are roasted to perfection.
Sprinkle with a topping of crunchy, toasted almonds.
This new family favorite is quick enough to make any night of the week, but also sophisticated and complex in flavor, making it perfect for a dinner party. The Kikkoman soy sauce provides the savory sensation we love, while the chili garlic paste delivers the kikk that many of us enjoy. Who knows, maybe you'll convert a few of your friends into brussel sprouts fanatics with this recipe, too!
For more recipes, including those with Latin flair, visit the Kikkoman Sabor website and follow the hashtag #KikkomanSabor on Twitter!
*Disclosure: This post is sponsored in collaboration with Latina Bloggers Connect and Kikkoman.